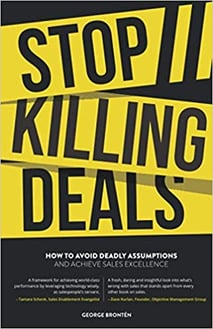 Companies around the world are collectively spending billions of dollars/pounds/euros each year on sales training and technology, yet all the evidence is that sales effectiveness keeps declining, year after year after year. Why?
I believe it's because far too many sales organisations are operating on deadly untested assumptions that deny the essential human nature of their sales teams and their buyers.
I wanted to draw your attention to an insightful new book by my good friend George Brontén, CEO of Membrain, and award-winning blogger. In Stop Killing Deals, George peels away the limiting beliefs that plague most sales organisations and offers practical remedies for achieving sustainable, scalable world-class sales performance.
George debunks the idea that technology by itself can ever offer either a quick fix or a lasting solution to our current sales effectiveness challenges.
Instead, his book focuses on a human-centred way of building and maintaining world-class sales organisations that support the essential human nature of those who work within them.
In my experience, intelligent salespeople (why would you want to hire any other sort?) do far better in a supportive environment that stimulates their creativity and guides them in what they need to know and do, than a rigid regime that insists that they follow a prescriptive process that makes little sense to them.
Yet that, unfortunately, is how many traditional CRM systems have been implemented - as something that sales users have come to regard as a close-to-useless administrative overhead rather than a source of invaluable guidance and best practice.
Drawing on years of practical experience and the lessons learned from hundreds of successful sales organisations, George's book reveals how to:
Align your strategy, process and methodology to achieve scalable world-class sales performance
Orchestrate your Way of Selling in times like these
Build your sales coaching around your sales process to generate exponential results within complex B2B sales environments
Turn your sales technology into your servant, not your master
Heal your organisation and give your team what they need with sales enablement
Understand the essential humanity of your sales workforce enabling you to better recruit, train, and support the people on your team, so you win more deals
Here's what I offered as a quote for the website when I reviewed his final draft: "George Brontén's excellent new book is a practical guide to eliminating the avoidable errors that are preventing sales organisations from achieving their full potential." And who wouldn't want to do that?
Stop Killing Deals is available on Amazon UK and other good bookstores. But there's more: when you buy the book, you will get links to additional resources, such as a sales effectiveness calculator, process tool, and more, at no charge.
If you're determined to identify and eliminate the assumptions that are holding your sales organisation back, I urge you to read Stop Killing Deals and learn how to convert HOW you sell into a lasting competitive advantage.
Oh, and if the ideas in the book convince you (as I expect they probably will) that your existing CRM is simply not delivering the goods for you, I encourage you to take a look at the Value Selling System® edition of Membrain - and if your organisation is committed to salesforce.com, you can even implement the module within your existing instance.
P.S. When you buy the book, make sure to read Chapter 5: "How Technology Undermines Sales" at least twice – you'll never look at your CRM the same way again! Check out Stop Killing Deals now.
P.P.S. George has a terrific ROI calculator on his landing page. It will show you how much money can be made by improving sales effectiveness. Check it out here.
ABOUT THE AUTHOR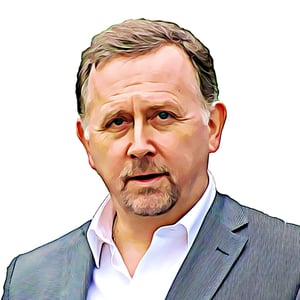 Bob Apollo is a Fellow of the Association of Professional Sales, a member of the Sales Enablement Society, a founding contributor to the International Journal of Sales Transformation, a member of the Sales Experts Channel and the driving force behind Inflexion-Point Strategy Partners, the leading UK-based B2B value-selling experts.

Following a successful corporate career spanning start-ups, scale-ups and market leaders, Bob now works as a strategic advisor, mentor, trainer and coach to ambitious B2B sales organisations - equipping them to create, confirm and communicate their unique business value in complex sales situations.