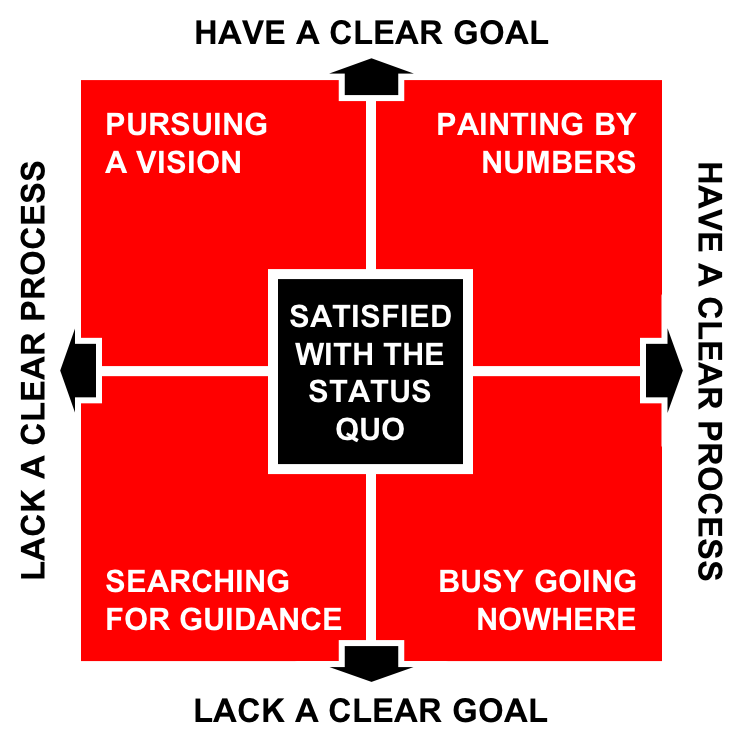 Are your prospects Satisfied with the Status Quo, Painting by Numbers, Pursuing a Vision, Busy Going Nowhere or Searching for Guidance?
I recently wrote about the phases B2B prospects tend to go through as their buying decision process evolves, and the need to align our sales and marketing tactics accordingly. Of course, our prospect's journey is rarely linear: at any point they can choose to move forwards, revert to a previous phase, go around in circles, put the project on hold, or abandon the journey altogether.
But the phase our prospect has reached in their buying journey isn't the only thing we need to be aware of when it comes to understanding their likely buying behaviour: we also need to determine whether or not they have a clear goal in mind, and whether or not they have a clear process for deciding how to achieve that goal.
This isn't as crazy as you might think: one of the primary reasons that so many buying journeys end in "no decision" is that the exercise either lacked a clear goal, or a clear buying decision process, or both. Or the ultimate decision makers in the customer might actually have been satisfied with the status quo all along…
Read More