What could be more important than your customer's business outcomes?
Complex B2B buying decisions are inevitably complicated. They involve multiple stakeholders and the customer's decision process is often non-linear. Consensus is hard to reach, and your fiercest competitor is often the status quo. Offering your customers generic 'solutions' isn't enough: they want to be confident about the specific outcomes they can expect to achieve before they commit to change.
That's why adopting an outcome-centric mindset has never been more important. You are much more likely to win your customer's trust if they believe that your approach will ensure that they will achieve the results they are looking for.
We're enabling growth-orientated B2B sales organisations to align their marketing, business development, sales, implementation and customer success functions around a shared outcome-centric approach that makes their prospects more confident about making that all-important commitment to change.
Unlike conventional "sales process" methodologies, Outcome-Centric Selling® emphasises the importance of facilitating the B2B buying decision journey and on equipping salespeople to develop compelling customer-specific outcome-centric value stories that give decision-makers the confidence to buy.
Specifically designed for complex B2B environments, Outcome-Centric Selling® equips salespeople to progressively develop their customer's decision confidence and in doing so to increase the likelihood that the customer will both commit to taking action and to choose to do business with the salesperson's organisation.
Outcome-Centric Selling® is a flexible framework that equips salespeople to target the most promising opportunities, enables them to accurately assess where their customer is in their buying journey, helps them to plan and prioritise their time and provides them with simple yet effective tools and best practices that support winning habits.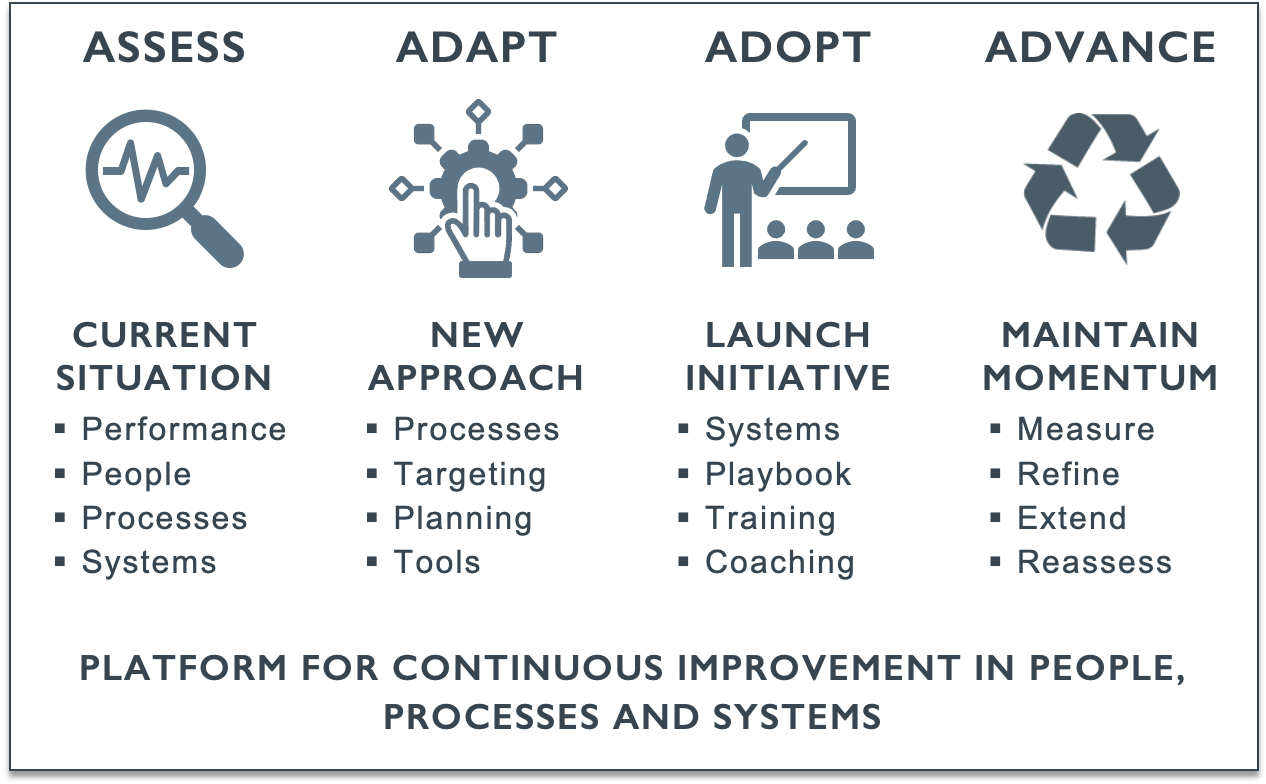 We aim to establish ongoing client relationships instead of one-off interventions. Our ASSESS-ADAPT-ADOPT-ADVANCE philosophy has been proven to deliver measurable and meaningful changes in sales effectiveness within weeks rather than months or years, and to provide a lasting foundation for continuous evidence-based sales performance improvement.
Our partnerships with OMG, the world's leading sales assessment and evaluation tool, Membrain, the leading next-generation sales effectiveness-focused CRM and Refract, the leading online sales conversation intelligence and coaching platform give our clients the confidence they will get sustained value from their investments in our programmes.
Applying an outcome-centric approach to complex B2B Sales
Our Outcome-Centric Selling® framework enables you to align your marketing, business development, sales, implementation and customer success functions around the common goal of convincing customers that you - above any other option they may be considering - are the partner that will ensure they achieve their critical business outcomes.
To learn more about our distinctively different approach, book a call today