Frontline sales managers - the people from whom individual members of the sales organisation take their day-to-day direction - have always played an absolutely pivotal role in the success of every sales organisation.
The actions they take and the guidance they offer have a profound impact on both individual and team performance. Yet relatively few of these critical players have benefited from formal training or coaching in the essentials of their role.
Many were promoted to their current position because they were top performing sales contributors. But the demands on frontline sales leaders (and the skills they are expected to demonstrate) are often very different from those on individual sales contributors.
The issues have been amplified by the impact of the current Covid-related challenges, and Gartner recently identified three key actions that Chief Sales Officers could and should take to ensure that their frontline managers are creating maximum impact...
The full recommendations are published in Gartner's Q3 2020 edition of The Chief Sales Officer - you can download your copy here.
Here's my take on Gartner's three key findings:
The Value of Focusing Coaching Efforts on Early-to-Mid Stage Opportunities
Gartner found that high-performing managers tend to focus their coaching efforts on helping their salespeople to do a better job of opportunity creation and pursuit. They recognise the critical importance of each salesperson having a healthy top and middle of their respective "sales funnels".
And although (as we'll see a little later), deal-level interventions have most impact in late-stage opportunities, without a healthy early-to-mid stage pipeline, their salespeople will have little chance of hitting their revenue targets on a sustained basis.
Some of the most productive areas to focus on when it comes to coaching early-to-mid stage pipeline building include:
Ensuring that salespeople are focused on and skilled at these core complex B2B sales disciplines has a critical impact on the true quality and value of the overall pipeline, and the speed with which qualified opportunities can be advanced from stage to stage.
Investing in Externally-Focused Near-Term Deal Execution
Top-performing managers balance their investment in ensuring the quality of their salespeople's pipelines with a focus on targeted, externally-focused near-term interventions in high-impact opportunities.
These interventions typically involve identify and helping the salesperson eliminate obstacles to progressing qualified late-stage opportunities and getting directly involved in key negotiations.
There is, of course, a balancing act here: simply intervening without at the same time increasing the individual salesperson's ability to deal with similar issues going forward ends up creating an ultimately unsustainable dependency on the frontline sales manager taking over the closing of deals.
Whilst this is occasionally necessary, frontline sales leaders cannot afford to continue to compensate for deficiencies in members of their sales team. Sooner or later, these issues need to be eliminated through coaching or through the recognition that some members of the sales organisation simply do not have the necessary sales DNA.
If you have concerns about whether your salespeople have actually "got what it takes" or are at least capable of developing it, I'd urge you to consider implementing the Objective Management Group's sales assessment and evaluation platform.
Eliminating Unnecessary Distractions
Gartner found that top-performing sales organisations have found ways of reducing the burden of unnecessary and unproductive distractions on their frontline sales managers.
CSOs need to clearly define what they see as the critical aspects of the frontline manager role, make sure that these core tasks are primarily focused on achieving short-and-long-term revenue objectives, and eliminate unnecessary tasks.
This burden often takes the form of reporting requirements that turn out to be less critical to the health of the sales operation and organisation than the initiators of many of these requests for information realise.
The key here is to ensure that as much as possible of the frontline sales manager's time and energy is focused on things that create both short- and long-term value.
Gartner found a clear and significant inverse relationship between the scale of the frontline sales manager's unproductive burden and their team's quota achievement - by as much as 18% for every unit of burden on a seven-point scale.
Appoint the Right People and Equip Them to Succeed
I believe you can summarise Gartner's findings in two critical conclusions:
You need to recruit the right people into these critical frontline sales management roles. Their ability to get the maximum performance from each member of their team is more important than their previous personal success as an individual contributor
You need to equip your frontline sales managers to spend their time where they are going to have the greatest impact in both the short and long term, and to reduce or eliminate the burden of other non-value creating activities
To which I'd add a third: you cannot afford to base critical decisions like these on gut feel or on surface level impressions. You must rationally assess the competence, capability and potential of every current and prospective member of your sales organisation, at every level.
Please download Gartner's report. Let me know what conclusions you come to...
This article was first published on LinkedIn.
About the Author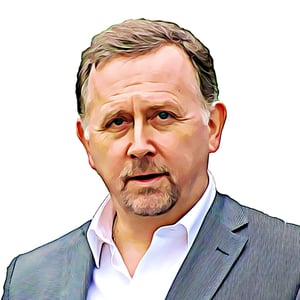 Bob Apollo is a Fellow of the Association of Professional Sales, a founding contributor to the International Journal of Sales Transformation, an active member of the Sales Experts Channel and the Sales Enablement Society, and the driving force behind Inflexion-Point Strategy Partners, the leading proponents of outcome-centric selling.

Following a successful corporate career spanning start-ups, scale-ups and market leaders, Bob now works as a strategic advisor, mentor, trainer and coach to ambitious B2B sales organisations - teaching them how to differentiate themselves through their provably superior approach to achieving their customer's desired outcomes.