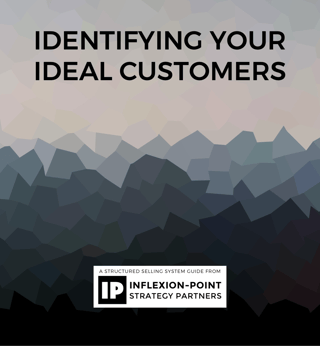 If your organisation is primarily involved in high-value, complex and lengthy B2B sales cycles, you don't need me to tell you how important it is that your marketing and sales efforts are precisely targeted on the issues, organisations and stakeholders that are most likely to turn into long-term profitable customers.
The cost of pursuing opportunities that are unlikely to go anywhere is simply too high - as well as being incredibly wasteful in terms of energy, effort and morale on the part of both your marketers and your sales people.
That's why one of the key factors that separates top-performing sales people and sales organisations from the rest is the ability to consistently target the right opportunities and the discipline to qualify out the ones they are unlikely to win...
Establishing an "Ideal Customer Profile" has always struck me as the critical first step in ensuring that marketers spend their demand generation and pipeline building budgets wisely and making sure that sales people invest their prospecting and selling time effectively.
In our latest guide (you can download your copy here, with no forms to fill in) we've sought to prove that the basic demographic dimensions of size, sector and location are now a completely inadequate basis for any serious segmentation of complex B2B sales environments.
As you'll learn in the guide, structural and behavioural considerations are now far more effective in determining whether any given organisation is likely to be a good long-term prospect - and situational factors are critical in qualifying whether they are ready to engage in an active buying cycle.
I hope that you find the principles relevant to your own marketing and sales initiatives - I am confident that they will help you focus your marketing campaigns more effectively and equip your sales people to qualify their sales opportunities more reliably.
Here's that link again. Did the guide hit the spot for you? Please share your feedback.
ABOUT THE AUTHOR
Bob Apollo is the Founder of UK-based Inflexion-Point Strategy Partners, the B2B sales performance improvement specialists. Following a varied corporate career, Bob now works with a rapidly expanding client base of B2B-focused growth-phase technology companies, helping them to implement systematic sales processes that drive predictable revenue growth. Please follow him on Twitter and connect on LinkedIn.
WE THINK YOU MIGHT ALSO ENJOY