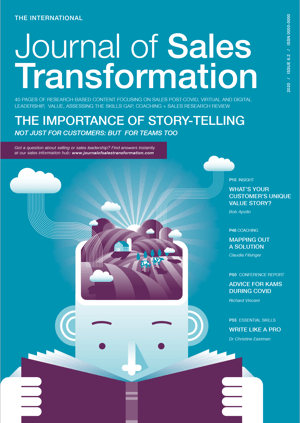 Generic value propositions, although they might be of some use in persuading potential prospects to make initial contact with you as a potential vendor, aren't very helpful when it comes to setting your customer's expectations about the specific value that they will derive from implementing your proposed solution.
Each customer's circumstances are different, and your value narrative needs to be tailored to their specific situation - and their particular priorities. It also needs to do more than simply communicate the value of your proposed solution - it must also answer the customer's three critical questions whenever they evaluate any significant investment:
Why do they need to change at all, rather than stick with the status quo?
Why should they choose you, rather than any of their other options?
Why do they need to act now, rather than later?
If any of these questions are incomplete or unsatisfactory, the chances are that your potential customer will at best delay their decision and may abandon the project altogether. And yet far too many sales proposals still focus on answering the second question ("why us?") while ignoring the first question and paying lip service at best to the third.
These three questions together form the foundation of each customer's unique value story - and the answers need to be specific to each prospective customer...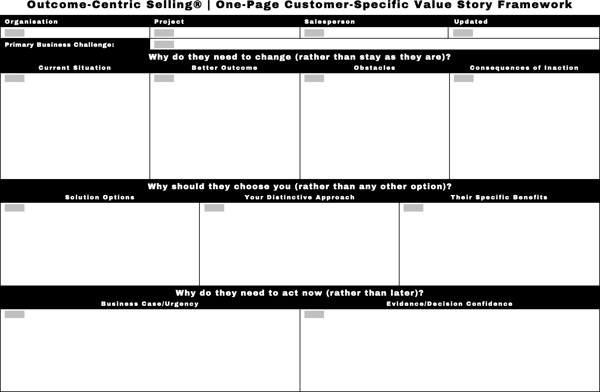 Assuming that the customer is bound to do something, and that the only unresolved issues revolve around which vendor and at what price is one of the most damaging mistakes a B2B salesperson can make. It shouldn't be any wonder that the most common reason for losing what appeared to be a well-qualified opportunity isn't competitive activity, but the customer deciding they can live with doing nothing and sticking with the status quo.
That's why collaborating with your customer to craft and communicate their unique value story and making sure that is resonates throughout their stakeholder community is so important in increasing your chance of winning in today's complex B2B buying environments.
Why do they need to change at all?
Identifying an issue you can address, or even expressing a desire to act, isn't enough to ensure that your customer will actually do anything. Before you can be confident that they have convinced themselves of the need for change, you need to explore the following:
Current situation: what is it about their current situation or the path they are currently on that is likely to make them want to change?
Success outcome: what would a successful resolution look like, and how will they measure whether or not they have achieved it?
Obstacles: what are the obstacles that could prevent them from achieving their success outcome, and what is stopping them from removing them?
Cost of inaction: what are the costs and consequences of sticking with the status quo, and what effect would that have on the organisation as a whole, key functions or departments, and key members of the stakeholder community?
All four elements are of course fundamental to their decision to change: if the gap between their current situation and success outcomes is small and/or stable, they will probably decide to stick with the status quo. If they haven't identified any significant obstacles to change, they might conclude that they don't need your help. And if the costs and consequences of inaction are seen as insignificant, they probably won't be motivated to change.
Why should they choose you?
You may believe that they recognise the need for change - but how can you convince them that you represent their best possible option? There are three key components to this:
Alternative options: what do they regard as their credible alternative options, and how do they believe you compare to them? You must bear in mind that these options may not be restricted to your obvious "competitors"
Your distinctive approach: why and how does your approach differ from all their other options, and what can you offer that the others cannot
Your unique benefits: what unique advantages does your approach offer to their organisation as a whole, key functions or departments, and key members of the stakeholder community?
All three elements are key to positively differentiating your proposed solution - and you must always show them how and why your approach is different before then convincing them that this will deliver superior outcomes.
Why should they act now?
Of course, even if your customer has decided they need to change, and even if they have decided that you represent their best available option, they still need to persuade themselves that they need to act now and cannot afford to delay. Any uncertainty about any aspect of their decision is, of course, likely to cause them to pause.
Your competition by this stage of their journey is no longer another similar solution option - it is another completely different project or priority. Your customer will always have more potential projects than they can afford to currently resource or fund.
Their choice of which projects to go with reflects two final factors:
Business case/urgency: what does their internal business case look like? Is it strong enough to satisfy their current investment criteria? Is both the ROI and the cost of inaction fully recognised? And could other projects offer greater returns?
Evidence/decision confidence: finally, what evidence have they identified to support their decision to act and their selection of both you as an organisation and your proposed solution?
The last point - decision confidence - cannot and must not be ignored or underestimated. Gartner's latest research into B2B buying behaviours has identified the inability to secure consensus across the stakeholder community and the failure to eliminate any remaining concerns as the two factors that are most closely associated with late-stage decisions to delay approving otherwise ready-to-close projects.
Establishing stakeholder consensus
There's little value in keeping the value story to yourself. You need to build the story in collaboration with your customer's stakeholder community, you need to validate it with your key contacts, and you need to ensure the decision and approval groups buy-in to the story.
Of course, you may not be able to reach every member of these groups directly - and that's where you may need to rely on working through and with someone (the authors of The Challenger Customer referred to these people as mobilisers®) who can align their colleagues in the stakeholder community around the value story.
Supercharging the executive summary
The most important part of any sales proposal is, of course, the executive summary. It's likely to be read by stakeholders with significant decision or approval authority who won't go into all the detail. And some of those stakeholders may not have been involved in the previous discussions. Some may even be questioning "why do we need to do this at all?"
This is where an executive summary that deals with your customer's three critical questions: why change, why you and why now? can be such a powerful selling tool. Summarising the customer's unique value story in your executive summary not only promotes your organisation, it also promotes the need for change and reinforces the benefits of urgent action.
Take a moment to review a few of your recent proposals. In addition to promoting you company and your proposed solution, do they sell the need for change? Do they convey the case for urgency? Do they reflect a complete understanding of your customer's value story? If not, following the principles I've outlined above could significantly improve your win rate.
By the way, you can download a copy of the value story template here: https://www.inflexion-point.com/value-story.
A version of this article first appeared in the International Journal of Sales Transformation.
About the Author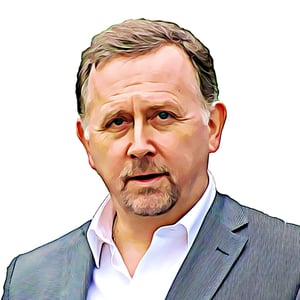 Bob Apollo is a Fellow of the Association of Professional Sales, a founding contributor to the International Journal of Sales Transformation, an active member of the Sales Experts Channel and the Sales Enablement Society, and the driving force behind Inflexion-Point Strategy Partners, the leading proponents of outcome-centric selling.

Following a successful corporate career spanning start-ups, scale-ups and market leaders, Bob now works as a strategic advisor, mentor, trainer and coach to ambitious B2B sales organisations - teaching them how to differentiate themselves through their provably superior approach to achieving their customer's desired outcomes.