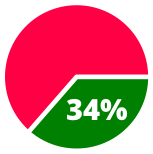 Miller Heiman's always-excellent research programme has thrown up another compelling statistic: only 34% of all the sales organisations surveyed believed that their management team was "highly effective in helping the sales team advance sales opportunities".
Well, you've got to wonder: if the majority of sales managers can't perform that basic task "highly effectively", what value are they adding to the process? And what's stopping them from supporting their sales people more effectively? To put the statistic into context, in "world class" sales organisations, the figure is not 34%, but 93%.
Stop behaving like a "forecast accountant"
Read More