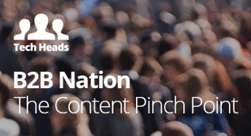 Most traditional sales methodologies have some element of "selling to power", and that's often associated with the C-Suite. But these C-Level executives, according to the experiences of many sales people, are notoriously hard to reach (and, by the way, unlikely to ever talk to you again if you do manage to get through and then treat them to the joys of your boring old product pitch).
Despite the growth of collective and consensus-driven decision-making, these C-Level executives still have the power to make or break a deal, and they can at least be expected to have the final say. So it's as important as it ever has been to attempt to engage them.
And, according to a recent study (B2B Nation - The Content Pinch Point) conducted by Loudhouse Research/Octopus Group, they could turn out to be a more receptive group than you might think…
The findings of their 2015 Tech Heads annual research reveal some fascinating patterns about the information gathering patterns of a range of different audiences (the study analysed the behaviours of Board Level, IT, Finance, HR and Sales and Marketing positions).
It turns out that Board Level people actually invest up to 50% more of their time than any of the other roles in following industry news and developments and - this is fascinating - researching specific products, services and suppliers. These infamously 'hard to reach' C-Level prospects turn out to invest more time in information gathering and news tracking than any other group.
But they have also become more discriminating. In my experience, this C-Level audience is fed up and bored with the deluge of so-called "thought leadership" materials that turn out to be no more than poorly disguised product pitches and teach them nothing of any lasting value.
SAY SOMETHING
DIFFERENT
It's exactly the same as a C-Level sales conversation: you've got to attract their attention, pique their interest, get to the point, and make them want to learn more. Repackaging and gently warming over a set of already widely quoted industry stats isn't going to do it, is it? - unless you bring a radical new interpretation to already accepted wisdom.
And I think that's what this latest Tech Heads study does. It found that:
82% of the C-Level audience expected suppliers to treat them more as a person rather than a potential sale - this reflects the power of relevant tailoring for roles, and of using stories rather than pitches
71% of the C-Level audience believed that online content levels the playing field for customer engagement between challenger brands and large business - making smart ideas more important than big budgets
74% of the C-Level audience believed that digital marketing enabled challenger brands to punch above their weight when competing for their attention
GOOD NEWS FOR
CHALLENGER

BRANDS

This is all good news for challenger brands and complex B2B sales. If your content is good enough, if your ideas are intriguing enough, if if you address the critical pain points of key stakeholders in your target organisations, if you're prepared to take risks to deliver edgy thinking, cleverness counts for more than the size of your marketing spend.

I've drawn 5 conclusions from the report:
Because decisions are taking longer, you need to come up with fresh ideas, content and conversation that keep you relevant throughout the buying process.
Because every minute your audience invests in research needs to be productive, your content and conversation needs to get to the point quickly, and encourage the audience to want to learn more.
Because your audience is wallowing in a stream of low-grade product pitches, you need to stand out from the crowd by standing for something different, memorable and intriguing.
Because your audience is consuming information they way they want, through the channels and devices they find most convenient, your content delivery needs to adapt accordingly
Finally: you need to become and remain relevant to all the key influencers throughout the buying decision process - and that means anticipating what is likely to be relevant to them
I think you'll enjoy reading the full report for yourself. You can download your copy here. And please share your experiences of getting through to the C-Suite.