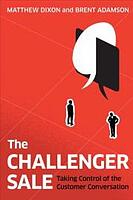 I attended the UK launch event for "The Challenger Customer" yesterday (you can read my review of the book here). One of the authors, Nick Toman, gave a quick-fire introduction to the fascinating research into B2B buying behaviour that led to the breakthrough thinking encapsulated in the book.
But just as interesting was the subsequent panel discussion featuring representatives from some of the UK's largest and most respected corporations, describing the lessons they had learned from putting the principles behind the author's previous book "The Challenger Sale" into practice.
Needless to say, their real-world experiences were very illuminating…
By the way, if you haven't yet read "The Challenger Sale", I urge you to get yourself a copy (here's the link to Amazon UK) - it's one of my all-time favourite sales books, and it's caused a number of sales organisations to fundamentally (and successfully) re-think their approach to complex sales.
For those unfamiliar with the concept, the authors of "The Challenger Sale" identify 5 distinct sales profiles, and go on to prove that one ("The Challenger") dramatically outperforms all other profiles in complex B2B sales environments, including the "Relationship Builder" profile that has traditionally been associated with sales success.
They go on to unpick the winning behaviours that set Challengers apart from the rest, and conclude that they include their ability to approach customers with unique insights and relevant insights, to tailor the message to the customer's specific situation, and take control of the conversation in a confident, assertive way. And they go on to suggest that these Challenger behaviours are trainable.
It was fascinating to hear the panellist's learnings around their Challenger journey. The most experienced of the three panellists described significant success in reaching out to key decision makers, differentiating their offerings and driving revenue growth in a tough and competitive market.
All had seen sufficient progress to believe that taking a Challenger approach had been the right strategy for their organisations - but each of them had learned some invaluable lessons along the way, and shared them in response to audience questions. Here are a few:
Q: What about the sales people who are not natural Challengers?
All the panellists acknowledged that not all of their sales people were natural Challengers - in fact the consensus was around 20-30%. But equally, not all sales roles are a dependent on Challenger skills. For example, winning the all important breakthrough first sale in a new account might particularly benefit from a Challenger mind-set - but maintaining the account was perhaps less dependent on that skillset. And, as the book points out, the impact of Challenger behaviours is far less significant in transactional sales than in complex sales environments. But they all had seen that Challenger behaviours were trainable, and could serve to improve the performance of all sales people.
Q: What about the role of marketing?
This was another universal lesson: engaging marketing in the process is absolutely critical to the success of a Challenger initiative. Creating true commercial insight is a world away from producing product capability based marketing materials (and it's far distanced from most so-called "thought leadership" as well, which is usually nothing of the sort). Implementing Challenger must be seen an organisation-wide initiative, and not something restricted to sales. This is different from most sales methodologies, which can work even if restricted to just the sales functions. I'd add something else, as well: every marketing initiative must be designed with the subsequent sales conversation in mind.
Q: What about the impact of sales leadership?
Here's the third key lesson: Challenger is not something you send sales people on a course to learn and then expect them to pick up and run with, without any further reinforcement. Front line sales managers turn out to be critical to the success of the initiative, because of their role in reinforcing and coaching the approach in the field. In some respects, this is true of any sales methodology, but it is particularly true of Challenger: you've got to engage and train your sales leadership and make sure they fully understand their essential role in the process.
Q: What about the impact on sales compensation?
This was a particularly interesting one: after all, most sales compensation plans focus on successful outcomes - whether expressed in terms of revenue, profit or product mix targets. But in order to encourage the right behaviours, some of the more experienced panellists had seen benefit in rewarding behaviour and adoption - as leading indicators of future success, and as an incentive to embrace change.
So there you have it: some fascinating lessons learned. Do you have experience of implementing Challenger in your own organisation? If so, please share your thoughts.
BTW, Challenger is a registered trademark of the CEB