Why is it that so many B2B organisations are so unhappy with the returns on their marketing investments, with the accuracy of their sales forecasts, and with the efficiency with which they are able to convert leads into customers?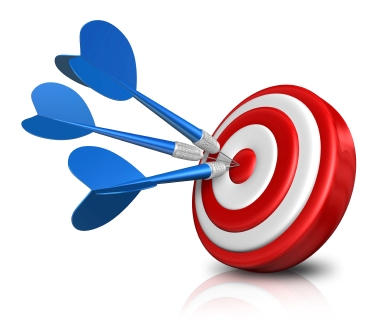 Why is it that so many sales people are so often so dissatisfied with the quality of leads provided by marketing? And why is it that so many marketing teams are so frustrated with the failure of sales to follow up on the leads they have generated?
This is such a common phenomenon that many people, and many organisations, have come to believe that it is an invitable consequence of the often fractured relationship between sales and marketing. But it doesn't have to be that way.
Research by Aberdeen Group and others has shown that today's top performing B2B sales and marketing organisations are up to 20 times more effective than their peers in converting marketing enquiries into sales wins.
Success starts at the top of the funnel
Their success starts at the top of the funnel: in today's top performing businesses, the sales and marketing functions share the same common consensus about what an "ideal customer" looks like, and their efforts are aligned accordingly.
As a result, they avoid wasting time and resources on organisations that are never likely to become profitable customers, and focus instead on identifying, attracting, engaging qualifying and converting more of the right sort of prospects.
What makes an "Ideal Customer"? It's the combination of the right roles within the right organisations that have business critical needs they can't afford to ignore – and for which you offer the best of all the options available to them.
Let's break this down into its component parts, starting with "the right organisations":
The right organisations
As many vendors have already recognised, the traditional demographic approach to segmentation is a hopelessly inadequate approach to identifying the most promising organisations in your target market.
Structural and situational factors inevitably turn out to far more important. Structural factors include how the company is organised, what systems they have in place, how they make decisions, their appetite for innovation and their position in their market.
Situational factors define whether the organisation is likely to be open to the need for change in the immediate future. Indicators include recent changes in management, new initiatives and changes in the competitive dynamics of their markets. Find out more.
The right roles
The people who are most willing to talk to you may not be the people who are most capable of making things happen in their organisations - that's why your marketing needs to focus on the roles that are the likely change leaders.
But even if you've engaged with the people most likely to make change happen, they are still likely to have to persuade their colleagues of the need to take action, and of the superiority of your approach over all other solutions available to their organisation.
That's why your marketing messages and materials also need to appeal to the other key operational, technical and economic stakeholders in the decision-making process - and to show why your approach will also be of benefit to them. Find out more.
The right issues
Last, but by no means least, you need to focus on the right issues - because whilst interesting issues might trigger interest, and important issues might spark an evaluation, only truly business-critical issues are guaranteed to drive action.
In fact, one of the most common reasons why apparently promising opportunities end up deciding to do nothing is that the need was never – or was not developed into – a truly "business critical" need.
The implication is clear: your marketing and sales campaigns must serve to uncover and develop business critical needs that you can solve better than anyone else – because these are the only needs that are certain to cause your prospect to take action. Find out more.
The right roles, the right organisations and the right issues
Explicitly and intentionally targeting the right people in the right organisations with the right issues might reduce the raw volume of leads you generate, but those opportunities are going to have a far higher conversion rate - up to 20 times if Aberdeen's findings are applicable to your marketplace.
Your sales and marketing people will be happier, and it's reasonable to assume that your executive leadership will be pleased with your improved forecast accuracy and the vastly increased efficiency of your customer acquisition process.
You can learn more about how to identify your ideal customers in our latest guide - it reflects the accumulated learning of hundreds of highly effective B2B sales and marketing organisations. You can download your copy here.
Let me know how you get along in applying these principles. I haven't yet found a single organisation that hasn't benefited from aligning their marketing and sales organisations around a unified vision of what their ideal customers look like.