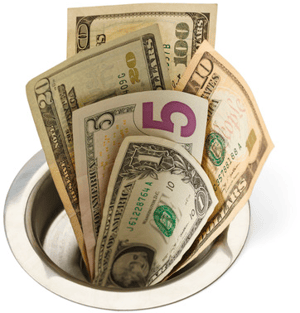 Selling has the potential to be an incredibly wasteful exercise. The vast majority of cold calls fail to establish any connection with a potential buyer. The vast majority of "leads" fail to convert into opportunities. And - except in truly exceptional sales organisations - the majority of qualified opportunities fail to convert into sales.
This level of waste in what ought to be a well-defined process would not be tolerated in any other environment. No manufacturing organisation could afford to build anything like this level of faulty products. No distribution company could afford to lose this level of packages. And no airline could survive so many faulty landings.
Now, it's fair for you to observe that the nature of selling (and the often unpredictable nature of the B2B buying process) means that perfect outcomes cannot be guaranteed. But by any rational analysis most of us have probably come to accept far more imperfection in the sales process than I believe we ought or need to…
THE CUSTOMER VALUE CHALLENGE
We're not the only ones suffering from the problem. We've only got put ourselves in the shoes of the typical buyer to see the issue from their perspective. According to research by Forrester, business executives regard fewer than 1 in 5 sales conversations as delivering any meaningful value: the remaining 4 out of 5 prove to be a waste of their time.
No wonder they are so reluctant to respond to unsolicited cold calls or emails. It seems to me that if we want to progressively reduce the huge amount of wasted effort that is currently inherent in our sales process that we have to start by better understanding our prospect's buying decision process, and working out how we can create meaningful value for them.
If we set ourselves the goal of creating, capturing and confirming some level of relevant value in every customer interaction, surely we ought to start by anticipating what our customer might value before the interaction, confirming this at the start of the interaction, and testing whether we have accomplished it at the end of the interaction.
PLANNING TO ESTABLISH VALUE
And that's where the problem often starts. In my experience - and maybe yours as well - one of the most significant differentiators between top-performing sales people and the rest is that they plan, prepare and anticipate what the prospect is likely to see value in and test their assumptions before they get stuck in to the conversation.
Simply posing the question "how might I be able to establish relevant value for this particular customer?" beforehand can make a huge difference. It ought to go without saying that generic value propositions are inherently weaker than carefully researched tailored value propositions.
There's simply no substitute for doing the necessary research upfront and having a plan for how you hope to establish uniquely relevant customer value. In sales, as in so many other environments, if we don't know where we're going, we're likely to end up somewhere else.
LISTENING, TESTING AND ADAPTING
But there's also no substitute for listening and adapting. If we have a hypothesis for how we hope to establish value, we need to test and if necessary refine it as the conversation evolves. And there's no substitute for asking our customers the simple question "what would we have to achieve to make this meeting valuable for you?" upfront.
When we create value for the customer, we create value for ourselves. We learn meaningful things that allow us to judge whether a continued investment in our time would be worthwhile for both parties. And - if the opportunity proves to be poorly qualified - it enables us to qualify out early and avoid perpetuating a stream of wasteful and ultimately unproductive sales activity.
THINKING ABOUT VALUE
You see, focusing on establishing whether we have the potential to offer uniquely relevant value in every specific sales situation isn't just good for the customer - it's great for our sales effectiveness.
If you're a sales person, I urge you to reflect on how you might establish meaningful value before every customer interaction, and to test whether you managed to achieve it. It's invaluable opportunity for reflection.
And if you're a sales leader, I urge you to quiz your sales people on how they intend to establish meaningful customer value in their most significant upcoming customer interactions. It's an invaluable opportunity for coaching.
I'd also suggest that you look for the inevitable correlations between value-establishing activities and the conversion rates and speeds of opportunities in your pipeline. I'd be astonished if (assuming you're collecting the data in the first place) if careful analysis didn't identify clear patterns of success and failure.
Alternatively, you could carry on without thinking through how you plan to systematically create, capture and confirm your uniquely relevant value. But that will inevitably perpetuate the sales wastage problem. Is that really what you want?
ABOUT THE AUTHOR

Bob Apollo is a Fellow of the Association of Professional Sales and the Founder of UK-based Inflexion-Point Strategy Partners, the B2B value selling experts. Following a successful career spanning start-ups to corporates, Bob now works with a growing client base of growth-phase tech-based businesses, empowering them to systematically establish their uniquely relevant value to their customers.
YOU MIGHT ALSO ENJOY