Jonathan Farrington is the inspiration behind this week's Sales and Marketing Success Conference in aid of the Japan Relief Fund, which is being held on-line throughout this week. If you haven't signed up yet, I urge you do to so. You can find the link at the bottom of this article...
But before you do, I thought that the following story - republished with permission from Jonathan's blog - might serve to put our little initiative into perspective. Here's what Jonathan wrote:
This is the story of Rika and Sayuri Ishikawa, two sisters who up until March 11th this year, lived with their parents, grand-parents and younger brother in a quiet well-to-do suburb of Sendai.
Now they live alone – well in fact they don't live, it is more a case that they exist alone.
Those parents, grand-parents and brother are all dead; The well-to-do suburb is no longer well-to-do, it isn't even a suburb, it has been reduced to a massive pile of rubble, which extends as far as the eye can see, merging into a landscape of total destruction and devastation.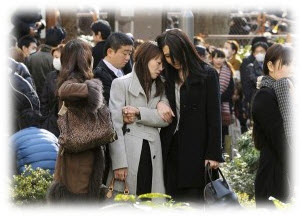 I want to tell you Rika and Sayuri's story but before I do that, let me share some background details, because March 11th was a long time ago in "news terms," and you will be lucky to find any updates on your local TV station or in your newspaper.
Sendai is the capital city of Miyagi Prefecture, Japan, and the largest city in the Tōhoku Region. Prior to the earthquake and subsequent tsunami, the city had a population of one million, and was one of Japan's 19 designated cities.
The 2011 Tōhoku earthquake, officially named the Great East Japan Earthquake was the most powerful known earthquake to have hit Japan, and one of the five most powerful earthquakes in the world overall since modern record-keeping began in 1900.
The earthquake triggered extremely destructive tsunami waves of up to 38 meters (124 ft) that struck Japan, in some cases traveling up to 10 km (6 mi) inland. In addition to loss of life and destruction of infrastructure, the tsunami caused a number of nuclear accidents, of which by far the most serious was an ongoing level 7 event and 20 km (12 mi) evacuation zone around the Fukushima I Nuclear Power Plant .
The overall cost could exceed $300 billion, making it the most expensive natural disaster on record.
The Japanese National Police Agency has confirmed 14,755 deaths, 5,279 injured and 10,706 people missing across eighteen prefectures, as well as over 125,000 buildings damaged or destroyed.
This earthquake released a surface energy equivalent to 9,320 gigatons of TNT, or approximately 600 million times the energy of the Hiroshima bomb.
That Friday, March 11th, wasn't actually like any Friday in downtown Sendai: There had been "rumblings" but the citizens were quite accustomed to these. Up until 14:45 pm, when the one minute warning arrived, not even a Hollywood disaster movie writer could have imagined the sheer horror and carnage that was to follow in the next sixty seconds.
The sisters, Rika – the eldest by two years – and Sayuri, spent their lunch hour shopping together. Rika wanted to buy a new dress to wear at her engagement party, which was due to take place the next day at the family home. Her fiancée worked for the fire department and was best friends with Sayuri's boyfriend, who was a police officer.
We don't know if Rika found a dress she liked; we do know that if she did, she never got to wear it.
Here's what else we know …..
At 14:46 pm, both sisters were serving customers in the department store where they both worked. When the earthquake struck, there was pandemonium as everyone tried to rush out into the streets. All around them, buildings were collapsing; roads were sinking; shards of glass were raining down on them; the injured and dying lay everywhere ….then the wave came.
In that scene of total carnage, which resembled the worst war-zone imaginable, there were probably split-seconds between surviving and perishing: Fortunately for the sisters, a police officer recognized them and led them to an office block. They climbed for what apparently seemed ages until they reached the twelfth floor – smoke and debris prevented them going higher.
They were eventually rescued 48 hours later, having survived on chocolate and Pepsi from a vending machine. All lines of communication were down; no cell phones; no radio, absolutely no means of finding out about the family.
Seventy-two hours later, they were able to make their way back to that suburb, and the moment of shocking realization: Both parents dead; both grandparents dead; little brother missing (he was at a friend's house when the earthquake struck, and they only found his body at a mortuary two weeks later) Both Rika's fiancée and Sayuri's boyfriend also died, trying to save others. In fact 80% of all their friends and neighbours were also wiped out.
The sisters are left with nothing. No home; no family; no job, and they believe, no future.
Some days after I learned of this story, I looked at my family across the dinner table, and tried to imagine what life would be like without them. I went outside and stared at my house, trying to picture a pile of rubble in its place. I drove through my neighbourhood, and tried to visualise a wasteland. I arrived at my office and wondered which eight out of every ten of my colleagues would be wiped out …
You get the picture? No, neither do I. It is just beyond the realms of comprehension.
But there is something I can do, and there is something you can do!
I decided I wanted to do more than just what I always do, which was to send a small donation to ease my conscience – do you do that too?
So I called some good friends, and I reached out to some good colleagues – thirty-five of them – all recognized experts in the sales and marketing space, and they responded immediately.
The end result? The most ambitious online sales conference ever staged, and it kicks-off on Monday, May 9th. Thirty five presentations over five days, and you can play your part.
For just $5, you can register for any of those presentations – you can sign up for five, or even ten. … in fact, you could sign up for the whole lot!!
Every single $5 donation will go the Red Cross – every single cent.
There are sessions to suit everyone: C-Level residents, sales leaders, frontline sales professionals, marketing types …
So, you can sit on your hands, safe in the knowledge that someone else will be donating, because it is not your problem; not in your backyard; someone else's backyard that no longer exists. Or, you can help us make a difference.