I was reflecting with a client the other day on the current economic climate, and how hard it was to recruit really good sales people, and how challenging it was to win new customers as a new technology business. It seems that these two challenges are connected.
Crossing the Chasm

Let's start with something familiar to most of us in high-tech – the technology adoption curve, and the challenges of crossing the chasm that separates the early market from mainstream buyers. When the author Geoffrey Moore introduced the concept – nearly two decades ago – it was reasonable to believe that as much as 20% of many markets behaved like early adopters.
And it was just was well that they did, because these early adopters offered significant sales opportunities to new and relatively unproven technology companies. These early adopters bought new technology because they were interested in finding competitive advantage from new applications for emerging technologies – and were prepared to accept the risks involved.
They assessed vendor offerings in a very different way from their mainstream market colleagues, who insisted on proven solutions to identified business issues.
The Chasm is getting closer

So here's the first issue – the chasm has moved a great deal closer. Buying behaviour has become more conservative – accelerated by the current economic climate – and most observers would now agree that early adopters now represent a single digit percentage of the buying population. It's become even more urgent that vendors master the art of crossing the chasm and satisfying conservative mainstream buyers. There simply aren't enough early adopters to sustain them.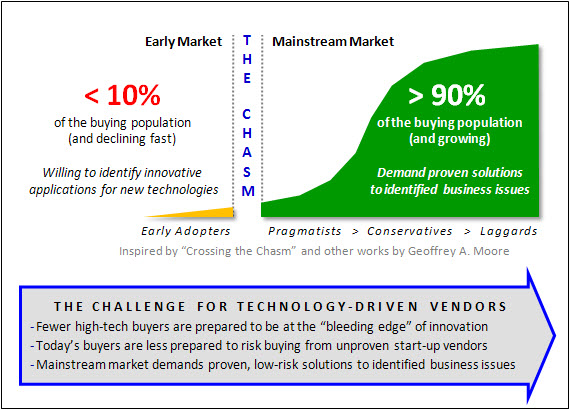 Now let's turn to the second issue before we see how the two elements are colliding together. It's the question of the quality of the sales population. Some proportion of the sales population are intuitive sales people, inclined to have conversations and ask intelligent questions. "Solution selling" comes naturally to them, and they are able to qualify early and accurately.
Eagles - and the Flock

Unfortunately, the majority often seem less naturally gifted. Whilst generally competent, they are inclined to give presentations, to make statements and generally depend on good process if these members of the "flock" are to emulate the quota achievements of their "eagle" colleagues. There was a time when these deficiencies might be papered over. But the current tough climate has served to highlight just how few eagles there are in the sales population.
Eagles always represented a minority. I'm not sure that there were ever more than 20% genuine eagles in the sales population. But comparing notes with a number of chief executives, I'm inclined to suspect that true sales eagles may make up an even smaller percentage of the total sales population.
It's inevitably hard (and probably unwise, impossible, or both) to recruit and maintain a sales team consisting exclusively of eagles. So most vendors need to find a way of making competent average sales people more effective.
The 70% Solution

What's the effect of the interplay between these buyer and seller trends? Here's the problem: early market buyers have the imagination and inclination to work out for themselves how technology can be used to solve problems. But mainstream buyers need the sales person to convince them that they have a proven solution to their business issue – something that average mainstream sales people are not naturally adept at doing.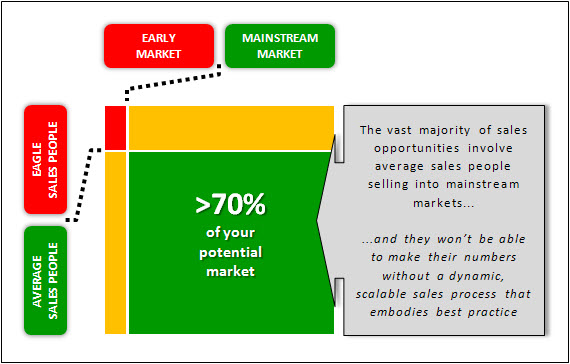 So you have a majority of the sales population who don't naturally sell the way that the majority of the buying population want to buy. No wonder average sales performance – by a number of key metrics – has been declining.
The Answer? Dynamic Scalable Sales Process

The answer lies in crafting a dynamic, scalable sales process that embodies best practice and equips, encourages and enables the average sales person to sell the way their mainstream buyers prefer to buy – and which is reinforced by their CRM system and the sales management regime.
Much of this best practice can be gleaned by observing what the top sales performers are doing to facilitate each significant stage in their prospect's buying process. Additional valuable insights can be learned from the behaviours and supporting processes of industry-leading sales organisations.
These processes exemplify the way the vendor intends to do business, and provide the framework for aligning sales and marketing around a common purpose, finding, winning and satisfying more of the right sort of prospects.
Using sales play books to share best practice and creating customer anecdotes databases that encourage selling through storytelling have proven to be particularly effective in reinforcing the chosen go-to-market approach.

The benefits can be striking. CSO Insights, in their latest annual survey of over 1,000 B2B sales organisations, concluded that organisations who had implemented a systematic, dynamic company-wide sales process outperformed their peers by over 30%.
About Us
Inflexion-Point Strategy Partners are B2B Sales and Marketing consultants with a systematic, evidence-driven approach to improving sales and marketing performance. To find out more, please browse our site and when you are ready, please call us on +44 (0)845 519 0295 or contact us here.