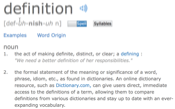 The state of the sales pipeline reflects the health of any sales process - and in anything other than the simplest of sales transactions, that process goes through multiple stages.
Those stages have names. Sometimes they simply reflect phases in the sales process - qualified, proposed, selected, etc. There's been a recent trend towards naming the stages after key steps in the buying decision process.
If you're seeking to co-ordinate the efforts of multiple sales people, it's obvious that those pipeline stages not only need to be named, they need to be defined in a clear and unambiguous way. But that's not enough...