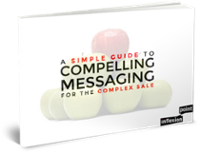 Let's face it; today's B2B buyers are overwhelmed by information, to the point where they often find it hard to distinguish between different solutions and vendors.
In the absence of compelling messaging and clear differentiation, they make simple, predictable choices: they either go with the cheapest or safest option, or they do nothing at all.
That's why standing out from the crowd has never been more important for every vendor who is competing for complex high value buying decisions…
The problem is compounded by the over-use of trite words and phrases like "unique", "best-of-breed", "best-in-class", "innovative", "state-of-the-art" and "leading" that have become so common that they are to all intent and purpose meaningless.
Consciously or unconsciously, your prospects tune out these "better" messages. What they are listening for are different messages: ideas that stop them in their tracks, challenge their perceptions and make them want to learn more.
That's why your messages need to show how you are different before they go on to prove why you are better than any other option available to the prospect.
And it's why your messages need to start with the prospect's problem or opportunity before they evolve to position your product or solution. Get the focus or the sequence wrong, and you will lose your audience before they have even started to get interested.
How can organisations address these challenges? Our recently published "Simple guide to compelling messaging for the complex sale" offers a wealth of practical advice. You can download the guide here.