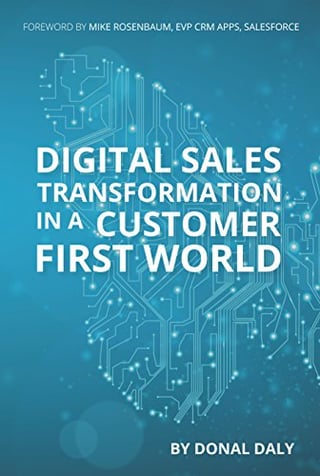 It's probably no exaggeration to suggest that B2B selling is facing a crisis of confidence. I hear it all the time from new clients. Sales organisations are finding that it is harder than ever to get that all important first fully engaged customer conversation started – and even when they do, apparently promising opportunities often end up stalling or falling completely off the radar.
And it's not as if their competition is doing any better: more often than not, the customer appears to conclude that the case for change is insufficiently strong – and the risks of change so high – that their safest option is to do nothing and stick with the status quo.
There's no shortage of self-help books offering frustrated sales people a potential way forward. But Donal Daly's recently published "Digital Sales Transformation in a Customer First World" has struck me as providing a particularly effective and unusually systematic roadmap for what to do about the situation…
I've known Donal for a number of years and I've always been impressed by his understanding of the subject and the clarity of his thinking. "Digital Sales Transformation" covers a broad and ambitious landscape and yet manages to weave a coherent connecting thread through all the various elements.
It's no surprise that Donal's observations reflect many of the realities that I've seen at first hand when working with B2B sales organisations that find themselves facing complex and rapidly evolving buying environments, or that his recommendations turn out to be both practical and actionable.
It's impossible in a short review like this to do much more than provide a brief overview of some of the more important concepts, but I hope that my brief and inevitably somewhat piecemeal highlighting of a few of the sections that resonated most strongly with me will motivate you to want you to read the rest of the book.
The book is – as you might expect – packed with statistics, tables and figures that support Donal's evidence-based approach, but it's not just about digital technology. In fact many of the most important themes talk to the essential ongoing importance of the human dimension.
At a time when many forecasters are predicting a precipitous decline in the need for and number of sales people, Donal makes a compelling case that when customers face complex, hard-to-navigate buying decisions, the role of the skilled sales person has never been more important.
"Customer First" is one of the resonant themes of the book. It reminds us that the role of the sales person is not merely to communicate value to the customer – it is to jointly create value with the customer. Modern selling must be a collaboration, and not an old-fashioned "always be closing" confrontation of wit and will in which both parties are trying to continuously outmanoeuvre each other.
This idea of jointly creating and capturing value runs like another constant thread through the book. But the value creation journey must surely start, as Donal suggests, by being very discriminating about which prospective customers we choose to target in the first place.
Ideal Customer Profiles provide the essential foundation for this exercise – a subject that I've also written about on a number of occasions (you can download my latest guide here). Donal highlights three critical considerations:
Firmographics: Is the company in our sweet spot (a combination of demographic, structural and cultural considerations)?
Customer Business Problem: Are they likely to have potentially critical business problems that we are really good at solving?
Positive Impact Potential: Are they likely to be successful with our product?
As Donal points out, there are two things that a seller or a sales organisation can control:
Who they choose to call on
What they choose to say when they connect with them
Having an ideal customer profile, as well as power sponsor profiles and the careful monitoring of the trends and trigger events that catalyse the prospective customer's change agenda helps us to establish who we should be targeting, and the best time to approach them.
Answering the "what we choose to say" question requires a longer and more thoughtful answer than I can realistically hope to convey in this short review, but Donal's 500-page masterclass contains a series of clear ideas on how to master this. And you'll also learn:
How to measure the impact of your product or service on a customer's business
How to leverage technology to add more value for your customers
How to cope with changes in customer needs and sales expectations during and after digital transformation
How to create intimate relationships with disparate customer contacts, and maintain connections at scale
How to structure sales and marketing tactics around individual customers
And (inevitably) the role that AI will play in enterprise sales
Donal's book was released on 2nd November and is available from Amazon. If the ideas I've shared above have stimulated your interest in learning more, Donal will be holding a book signing event in London on 22nd November. Unfortunately, I'll be abroad at the time otherwise I'd certainly have booked my place already. You can find out more about the event here.
IF YOU LIKE THIS, I'M SURE YOU'LL ALSO LIKE:
ABOUT THE AUTHOR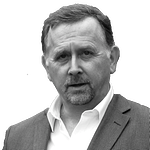 Bob Apollo is a Fellow of the Association of Professional Sales and the founder of UK-based Inflexion-Point Strategy Partners, home of the Value Selling System®. Following a successful career spanning start-ups, scale-ups and corporates, Bob now works with a growing client base of tech-based B2B-focused high-growth businesses, enabling them to systematically establish their distinctive business value in every customer interaction.