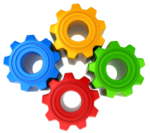 One of a series of articles celebrating the lasting impact of "Crossing the Chasm"
It's more than 20 years since Geoffrey Moore published the first edition of "Crossing the Chasm". Since then, it has become a classic, and has cemented its position as the one must-have book that every B2B technology marketer needs to have read.
I've been applying the principles since 1991 - the year in which the book was first published - and the timelessness of the core concept is striking. But the world has moved on in a number of significant respects, and the recently published 3rd edition reflects this.