In a recent article for the CEB, Andrew Kent posed the question "Are your reps bartenders or personal trainers?" It's a great question, a wonderful analogy, and a concept that deserves a broader exposure.
Kent was contrasting the difference between traditional relationship-centred sales people and the positive role models exemplified by Matthew Dixon and Brent Adamson's widely-acclaimed "The Challenger Sale".
The Bartender Profile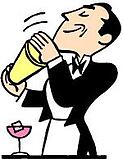 As Kent describes it, traditional, relationship-centered sales people are like the bartender in a familiar, comfortable bar. He or she will listen appreciatively and (by and large) uncritically to your stories and commiserate with your problems. They may even offer you a bowl of complementary salted peanuts.
But at the end of they day, they know (and you may come to recognise the following morning) that they were only there to sell you another drink. And they may leave your nursing a hangover the following morning, along with maybe a post-purchase regret headache.
The Personal Trainer
Contrast that with the personal trainer at your local gym. They are there to persuade you that you can do better, that you can go that extra yard or another dozen crunches. It may hurt right now, but you know that you'll be all the better for it later. And along the way they may tell you some uncomfortable but accurate truths.
Of course, they earn the right to tell you the truth and to confront the fact that you could do better because their primary purpose is not (as it may occasionally seem at the time) inflicting torture but helping you make the decisions that in retrospect you know to be right.
Which sales people would you rather employ?
Which sort of sales person would you prefer to employ - those who get along so well with their prospects and customers that they are unable to challenge their thinking? Or those that have the confidence and self-assurance to find constructive ways of making the prospect believe that he or she could do better?
That's not to say, of course, that the ability to establish relationships isn't an important sales skill. It's just that in today's buying environment, it isn't enough. It might get you liked, but it won't get you respected. And it won't earn you the right to help your prospects and customers to face necessary but uncomfortable facts.
That's why many of today's top-performing sales people come across a lot more like personal trainers than bartenders. They see their goal as helping to make their prospects and customers fitter and better equipped to face the realities of today's business environment, even if it means confronting a few home truths along the way.
Do you want customers who prefer to buy from bartenders?
Let's reverse the logic, and pose the question: do you really want customers that prefer to buy from bartender-style, relationship-centred sales people? It may be convenient in the short-term, but let's face it, it's not a great basis for a long-standing and mutually profitable relationship.
Because it's only by bringing fresh thinking to your customers that you can help them achieve the best outcomes. Contacts that prefer to buy from bartender types may be unable to promote a change agenda within their organisation, and sooner or later may find themselves replaced by someone with more of a mobilising personality.
What sales personalities are you employing today?
So - what's the balance between bartenders and personal trainers in your sales organisation today? How can you tell the difference? Listening in on sales calls can be instructive. Do your sales people defer to what the prospect says they want? Do they see their goal as simply taking another order?
Do they - paraphrasing the words of George Bernard Shaw - accept the prospect's description of things as they are, or do they help their prospect see things that have never been, and encourage them to ask "why not?"