I'm delighted that Swayne Hill, Co-Founder & SVP of Field Operations at Cloud9 and author of the excellent Data-Driven Sales Management has agreed to let me republish another of his thoughtful articles - this time asking "Marketing Scores Leads, Why Doesn't Sales Score Opportunities?" - as a guest contribution to the Inflexion-Point blog. I really like the methodical way in which Swayne thinks about these matters, and I think you will too. Over to you, Swayne:
The Marketing department has been scoring leads for many years. Lead Scoring provides a data-driven way to align internal resources against the people/companies most ready to engage. So, why doesn't the Sales department do it too? Sales is constantly re-aligning resources against the 'most likely to buy' Opportunities, right? In B-2-B selling, a 30% win rate is reasonably good. That means losing 2 of every 3 Opportunities engaged. Worse, it takes almost twice as long to lose. What a waste!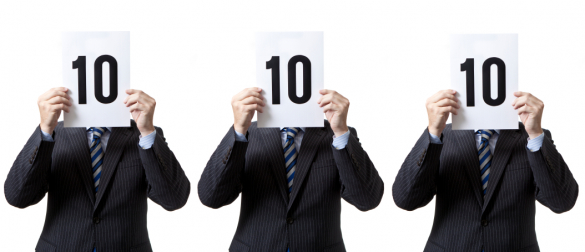 Over the past few years, we've created a Sales Opportunity Scoring System that helps us guide sales-cycles back 'on model', save significant admin time across the sales team and, increase our reaction time dealing with sales forecast risks.
Here's how we did it…
1. List Sales-Cycle Attributes
Best advice – don't let 'perfect be the enemy of progress.' You won't get this exactly right the first time, but that's okay… just get started. We look at the trailing 6-12 months for patterns in the data. We're growing fast and things change quickly, so we don't go too far back. If yours is a more mature business you could go back further to get a richer data set.
Here is an example of the top-10 attributes for our sales cycle – proprietary information obfuscated.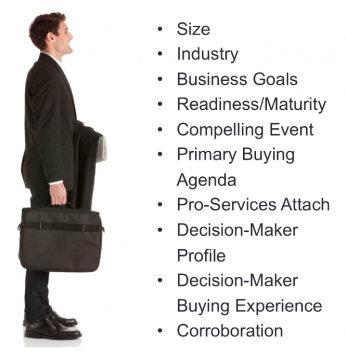 These are the things, which depending on the values will tell us how close a sales opportunity is to our sweet spot. We don't get all this information up-front of course, but during the selling process our Sales People focus on gaining an understanding for each of these attributes.
Once we got the attributes nailed down, we created a 'benchmark' – a profile of the ideal sales circumstances.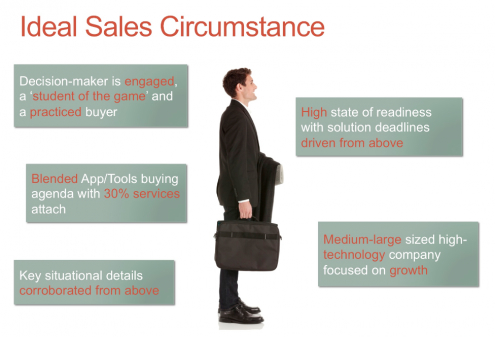 Using this 'Ideal' as a starting point, we assigned each of these values a score of 10. If we had an absolutely perfect prospect, they would get a raw score of 100.
Each of the attributes of course could take a range of values, so next we assigned a value of less than 10 to the other possibilities. Decision-Maker Profile, for example could be characterized as 'Cowboy' (not very process-driven, shoots from the hip, talks fast, skips over the details, etc.) or 'Student of the Game' (loves process, more conservative, realistic, detailed, methodical, etc.) or, 'Other' (something in between Cowboy and SOTG). Again, not a perfect science but stay with me.
2. Weight Sales-Cycle Attributes
It's useful to rank the Sales-Cycle Attributes according to their relative impact on the probability of winning. Since most sales teams are accustomed to 'Probability Scores' on an Opportunity, it makes sense to have the Weighted Score also become a percentage – easy to understand, easy to compare. We assign a constrained weighting system – must add up to 10 over-all. Here's an example, again proprietary data obfuscated.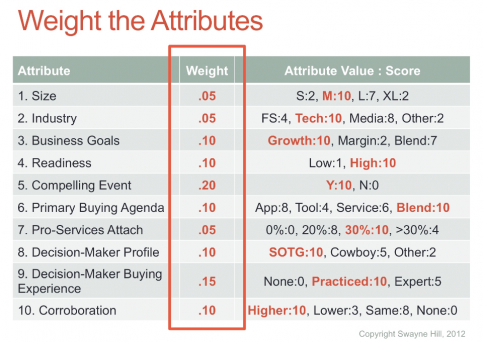 With the first two steps complete, we've got a model for the Ideal sales circumstances against which we can compare any particular deal and judge its proximity to our Ideal (or sweet spot).
3. Press The Sales Opportunity Scoring System into Action
Now the scoring system is in place and we've got a benchmark for the ideal sales situation, lets take a look at the following example. As you can see, there is a raw score of 60 and a weighted score of 52.5; it's the weighted score that's of interested.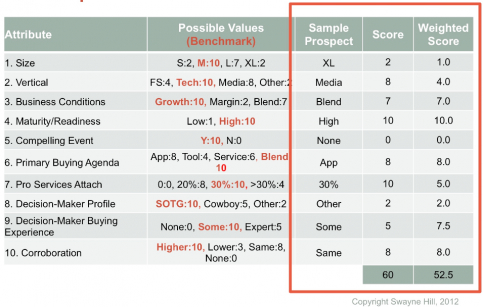 To make tracking easier, we added each of these attributes as custom fields to our instance of Salesforce.com and our Sales Reps update the system as we learn more about the prospect/opportunity. Implementing an Opportunity Scoring System has brought a little science to the art of managing our sales team.
Streamline CRM Systems

– recording deal details in the CRM system is a pain in the ass for Sales Reps. By focusing on the data that really matters, we minimized the admin overhead AND we got richer, more useful data at the same time.
Triangulate Sales Forecasts

– we always consider three data sources before forecasting sales – what the Sales Reps say, what the over-rides look like and what the data says. The Sales Opportunity Scoring System gives us confidence in the true value of our pipeline backing up the sales forecast.
Provide Deal-Level Coaching

– by exploring the gaps between Win Probability (Weighted Score) on a particular deal and Forecast Probability (the subjective probability associated to the stage we're in), we focus a Sales Rep's attention on the high-impact activities that would bring a deal closer to the model – and a higher probability of winning.
Monitor Risk/Exceptions

– not all of the information we need is available at the beginning of the cycle. If the information does not unfold as it should or, we are not converging on the Ideal, the system triggers risk-alerts so we're not blind-sided at quarter-end.
Result
Marketing and Sales are like two sides of the same coin, and there's plenty each can learn from the other. Scoring is at the top of the list for Sales. While the goal for Lead Scoring may not be exactly the same as the Sales goal for Opportunity Scoring, there are enough similarities to make the comparison relevant. Indeed, by borrowing the concept from our friends in Marketing and setting up a Sales Opportunity Scoring System we've increased our win rate, reduced admin time and given our team more reaction time.