I'm delighted that Swayne Hill, Co-Founder & SVP of Field Operations at Cloud9 and author of the excellent Data-Driven Sales Management has agreed to let me republish one of his latest articles, entitled "Battle-Tested Method for Creating a Dynamic Sales Process" as a guest contribution to the Inflexion-Point blog. I hope that you enjoy his perspective on a critical aspect of B2B selling as much as I have. Over to you, Swayne: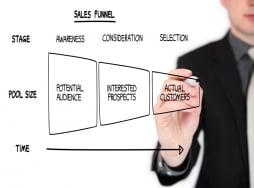 According to CSO Insights, companies that adopt a 'Dynamic [Selling] Process' experience 35% higher win rates than those with a 'Random Process.' That's worth repeating, a 35% higher win rate! Just imagine if your $60M Q2 pipeline was suddenly worth $34M in sales by June instead of $25M, plug that extra $9M into your commission calculator and see how it feels. Creating a Dynamic Process starts with a clear definition and documentation of a selling process aligned to your prospect's buying process. Without this, you won't be able to follow the data trail and diagnose issues, forecast future revenue with confidence or scale the team efficiently – the stuff of Sales Management.
I've been through this process a few times, here's the battle-tested method we use:
1. Document Buying Process
It all starts with a solid understanding of your target customer's buying process. I have not experienced so much a shift in the balance of power, as Andy Paul writes, however by using the buying process as a starting point we create a low-friction, and familiar environment for our prospects. In our business, as in most B2B selling environments the process follows this pattern:
Clarify the problem and who owns it. Sounds simple but this is the sales grave yard. I've seen too many sales people get drawn in to solve a tactical problem early that was really just a symptom of a larger issue out of the supposed buyer's control.
Get educated on the possibilities. This is where vendors get engaged around RFI's and the like.
Gain agreement on the most appropriate solution. An internal (political) process to agree on a preferred course of action.
Get the right deal. Once the preferred solution (and a couple of alternates) are determined, this is where legal and business negotiations get completed.
Put everything in motion to ensure the problem gets solved. Deployment plans are locked down and the project/training/roll-out gets under way.
2. Map Sales Stages to Buying Process
In order to help with deal-specific communication outside the sales team, it's essential to have a standard naming convention for Stages. There are three approaches to naming – entrance criteria, central activity or exit criteria. I'm a believer in naming the activity but I've seen the others work equally well. Here are ours:
01-Qualify
02-Secure Sponsorship
03-Secure Decision Group Preference
04-Negotiate Business Terms
05-Negotiate Legal Terms
06-Pending Approval
07-Closed/Won
Best practice is 7 +/- stages and if you precede the stage name with a sequence number, you'll find sales reporting gets easier.
3. Define Selling Process
At this point we fill in the essential activities at each stage. These will vary slightly depending on the Play Book (more on that in another post) and serve as a guide for what sales tools and content will be needed later.
01-Help characterize the problem in a way that gives us an advantage as the process develops. Set the agenda against competition. Help 'pain map' our way to strategic/high-priority problems. Communicate in strong, crisp business value terms.
02-Develop relationship with power sponsor, discovery, initial solution demos, supply ROI data, encourage back-door reference checks, build network maps to get beyond sponsor, develop solution maps, configuration for custom demonstration identify and get to the DG members
03-Custom demonstration/presentation to get to power, map our org/politics and personal drivers, formally responding to RFP, differentiate from competition, etc.
04-Statement Of Work, MSA to legal, confirming funding with Finance
05-Contract review with Legal
06-Arrange reference calls, confirm with finance and approvals
07-Transition to deployment team for launch, schedule 90-day health checks, etc.
4. Map Observable Milestones to Buying & Selling Process
Of course, once the selling process is documented and institutionalized in the CRM system, you'll want the sales people to record each new sales cycle using the framework as a guide. Your key to management 'checks and balances' is Observable Milestones. These are the tangible documents and/or records of communication that indicate progress, regardless of who is interpreting the data. These are the things that give you confidence in the quality of your pipeline down the road.
01-Specific buying process documented, scheduled and confirmed by prospect
02-Solution map built & validated by prospect, buying process corroborated
03-Executive sponsor engaged, custom demo/presentation confirmation of preference, MSA & proposal delivered
04-Statement Of Work/Quote accepted in principle
05-Red-lined MSA in-hand
06-Final MSA agreed, docs out for signature
07-Final docs in-hand
Documenting the Selling Process – Presentation
Where to From Here?
Detailed documentation of a selling process that's well-aligned to your target customer's buying process, with management checks and balances, is a necessary foundation for the Dynamic Selling Process but we're not quite there yet. In upcoming posts, I'll detail how to develop a benchmark to serve as a basis for Double Loop Learning, the characteristic that separates Formal Process from Dynamic Process.
Thanks Swayne! If you find this content useful, I strongly encourage you to follow Swayne @DataDrivenSales and subscribe to Swayne's weekly email updates.
One more thing: if you haven't already done so, why not invest 5 minutes in completing our recently revised B2B Sales and Marketing Best Practices Self-Assessment? You'll find a number of immediately actionable ideas for accelerating your revenue growth.