I'm sure that your sales organisation is straining every sinew to ensure that they close the quarter and the year with the best possible sales results - so I'd like to put forward 3 questions that you ought to insist on answers to for every opportunity in your Q4 sales pipeline…
I'm not going to insult your intelligence by reminding you that you need to be sure that every deal you are hoping to close qualifies under the FAINT criteria (Finance, Interest, Authority, Need and Timeframe) that are replacing the traditional BANT approach in a growing number of complex B2B sales environments (you can read more about why you need to ban BANT here).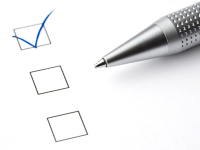 Nor would I dream of stooping to remind you that you need to be sure that you have identified all the key stakeholders and stages in the decision making and approval processes. Hopefully, we can take those basics for granted.
I want to turn instead to 3 additional questions that also need to be answered if you are to focus on the opportunities that have the best potential to close, and implement the strategies that offer the best chances of winning your prospect's business.
1: Why do they have to decide this quarter?
Many sales methodologies focus on the importance of identifying your prospect's "compelling event". These compelling events are defined as the factors that are forcing your prospect to change some important aspect of what they do today within a defined timeframe - hopefully by buying your product or service.
Often, it's because an important initiative has to be completed by a specific date. But these initiatives can slip, or become less critical during the course of the sale - and sales people can often exaggerate the importance of a given compelling event. So my advice is that, even if a compelling event has apparently been identified, that your sales people confirm that it remains as important as it was to the prospect.
2: What would happen if they decided to do nothing?
Even if a compelling event appears to exist, it's worth double-checking to ensure that the need to change is really as important as it appears. You can get a strong sense of this by asking the question "what would happen if your organisation decided to do nothing, or deferred their decision?"
Your sales people need to probe for what I've come to refer to as the "consequences of inaction". If the prospect has been unable to define some (at minimum) uncomfortable or (preferably) catastrophic consequences of letting the status quo prevail for a while longer, then confidence in closing the deal this quarter has got to be challenged.
3: What other options are open to them?
It's a mistake to assume that your competition is solely coming from vendors that you would regard as your natural competitors. Your "competition" actually includes every other option open to your prospect for solving the problem that they came to you with. These options might include radically different approaches to dealing with the issue.
Or - and this is true in many software sales to companies with a large IT department - your competition is actually the CIO's often misguided confidence that they can actually develop and deploy a solution using their existing in-house resources. Unless your sales people have flushed out all of these options, and have positioned your solution positively against all of them, you can't be confident that your approach is the one your prospect is most likely to choose.
Winning in 2011
and

in 2012

So there we have it - three key questions that could help ensure that you maximise your revenue potential this quarter, and avoid wasting effort on deals that are in truth never likely to close before the end of the year.

I hope that you find these suggestions helpful in your quest to finish 2011 on a high. But if you also want to ensure that you enter 2012 in the best possible shape to continue the momentum, I'd like to recommend that you invest 10-15 minutes in completing our latest B2B Sales and Marketing Audit - I'd be surprised if you didn't identify at least one initiative that could help to further improve your performance.