Selling undifferentiated products is tough. Margins are declining, competition is increasing, and the buyer has all the power. Wouldn't it be so much nicer if you could sell highly profitable value-added solutions instead? Well, possibly...
I've lost count of the number of organisations who have expressed their ambition to transform themselves from a product-driven to a solution-led sales organisation – but been sadly disappointed with the results.
Clearly, the transition is harder than it first appears – which is why many companies find themselves state of limbo that combines the worst of both worlds, saddled with expensive "value added" strategies that create little or no true customer value, but simply add cost and complexity to the operation.
My advice is to think carefully before you decide that solution selling is for you – are you prepared to commit your organisation to the change?
Becoming "solution-led" (or customer-centric, or any of the other related fashionable terms) can never be achieved simply by sending sales people on a course - it frequently requires profound changes to an organisation's structure, priorities and mindset.
You will find that much of the activity you have taken for granted creates no meaningful value to your prospects and customers, and will need to be eliminated. You will find that some – maybe many – of your people are unable to make the transformation.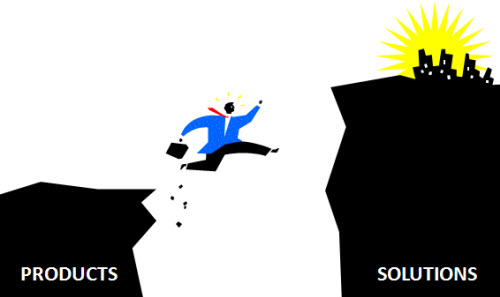 If you are prepared to make the necessary commitment, and if you can develop the right offerings for the right markets, you can indeed transform the potential of your organisation in a way that can create lasting competitive advantage. But if you fail, you may end up worse off than you were before.
My recommendations? Be thoughtful about whether becoming solution-led is right for your organisation. Be sure that you are prepared to commit to the journey. Be clear about where your real value lies. And remember:
If your prospect hasn't acknowledged a problem, there can be no solution – and that the only one that is entitled to call it a solution is the customer.
In the next blog in this series, we'll explore the 3 dimensions of value – but you can get a head start by considering who your most valuable customers are, what their most valuable issues are, and which of your potential actions they would find of the most value.