IS YOUR ORGANISATION READY TO TAKE FULL




ADVANTAGE OF THE POWER OF SALES PLAYBOOKS?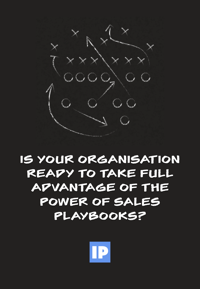 Despite all the effort expended in trying to recruit the right sales people, and despite all the money invested in CRM and sales training programmes, most B2B sales team continue to struggle with a significant and persistent performance gap between their best sales people and the rest.
But a rapidly growing minority are already reaping the rewards of a focus on sales playbooks...
Of course (just as with CRM), chosing the right technology is only one small part of the answer. Our latest checklist highlights 10 critical playbook components that are essential foundations of a truly effective sales playbook.
Is your organisation really ready to reap the potential rewards of a successful sales playbook initiative? Are your sales tools really good enough? Or will some of our questions make you realise how much you might still have to do?
To find out the answer, simply fill in the form on the right >>>