Inflexion-Point Strategy Partners are acknowledged experts in applying the principles of value-based selling to complex B2B sales environments.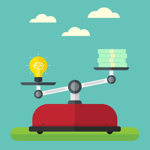 Whether your organisation is considering implementing value-based selling for the first time or already embarked on the journey, our systematic approach and field-proven structured methodology will help you get there faster.
Drawing upon on the latest research into B2B buying behaviour, our VALUE SELLING SYSTEM® has the power to enable every member of your sales organisation - from your most experienced veteran to your most recent recruit - to progressively establish their distinctive solution value in every customer situation.
You can find out more about how our approach could enable your sales organisation to take value-based selling to the next level by sending us an email, booking a discovery call or filling in the form on the right.
Inflexion-Point Strategy Partners | Reading | RG6 4AY | UK