OUR APPROACH TO VALUE SELLING
We use a well-proven, progressive approach that will enable you to quickly achieve the initial benefits of the value selling system® whilst establishing a flexible framework that will enable you to drive continuous performance improvement.
First, we'll BENCHMARK your current situation, processes, messages and materials and identify immediate opportunities for improvement. Then we'll CUSTOMISE the key elements of the value selling system® to reflect your unique environment.
We'll then work with you to ensure that every member of your sales organisation is highly motivated and fully trained to ADOPT the new approach. And we'll be on hand to help you analyse and IMPROVE your value selling performance.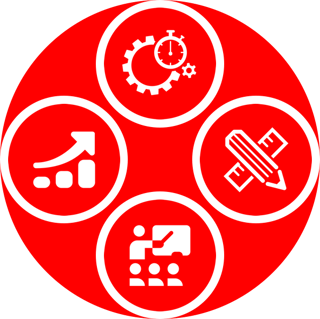 This initial phase typically includes a series of 1:1 conversations and workshops with key members of your sales and marketing team. We'll assess your current performance, systems, processes and sales tools against the latest industry best practice, present you with a concise set of prioritised recommendations and use your current data to predict how you can expect your key sales performance metrics to improve as a result of implementing the value selling system®.
Drawing on everything we've learned from the benchmarking and assessment phase, we'll then work with you to customise the key elements of our value selling system® to reflect your unique environment. In addition to aligning the key steps and stages in your sales processes with your prospect's typical buying journey, we'll deliver a set of custom sales tools that enable them to target and qualify the right opportunities, position and differentiate their solution, and progressively advance their prospect's buying process.


We'll introduce your customised version of the value selling system® to your sales, marketing and other customer facing staff in one or a series of highly interactive training sessions that will harness the participant's knowledge and experience to further refine the materials. Depending on the size and geographical distribution of your sales organisation, we can either deliver all of the training ourselves, or implement a "train the trainer" programme that equips and enables your team to continue the process. FIND OUT MORE.
From that point on, we'll be available whenever you need us as a flexible resource to help you continue your value selling journey and to support your continuous sales performance improvement process. We'll help you to further refine your value selling system® implementation in response to the invaluable learning that you will undoubtedly accumulate along the way. If you prefer a more formalised relationship, the Value Selling

PERFORMANCE ZONE

includes regular reviews and access to new and updated materials.

EXPERTS IN APPLYING VALUE-BASED SELLING TO COMPLEX B2B SALES
Our value selling system® has the potential to empower every member of your sales organisation - from your most recent recruit to your most experienced veteran - to make the connection between the critical business issues of their customers and the strategic business value of your solution...
TO LEARN MORE ABOUT OUR DISTINCTIVELY DIFFERENT APPROACH TO VALUE-BASED SELLING, CONTACT US TODAY