MOVING THE MIDDLE




CLOSING THE GAP BETWEEN YOUR BEST SALES PEOPLE AND THE REST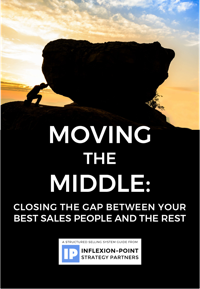 Most sales organisations of any size suffer from a significant performance gap between their best sales people and the rest - and the gap is usually even wider in complex B2B sales environments.
According to the CEB, the gap in transactional sales is around 160%. But in complex, high-value B2B sales situations, the gap between the best and the rest rises to nearly 300%.
Moving average sales performers by just a few percentage points towards the top-performing minority can make a significant difference to your overall sales numbers - as well as improving forecast accuracy and revenue predictability.
Our guide offers a series of pragmatic, actionable and field-tested recommendations for equipping every member of your sales team to emulate the winning behaviours of their top-performing colleagues.
To get hold of your copy simply fill in the form on the right >>