DOWNLOAD GUIDE: COMPELLING MESSAGING FOR THE COMPLEX SALE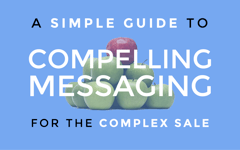 Today's B2B buyers frequently find themselves overwhelmed by information - to the point where they often find it hard to distinguish between different solutions and vendors.
It's no wonder that so many buying processes end with a decision to stick with the status quo.
This explosion in content creation has been accompanied by a dilution in quality. Much of what is fancifully labelled as "thought leadership" is little more than the shoddy rehashing of already widely-shared ideas or poorly disguised product promotion. Few marketing campaigns give any thought to shaping the subsequent sales conversation.
Our latest e-book distils years of hard-won experience and offers a simple but well-proven framework for crafting marketing messages and shaping sales conversations that are guaranteed to resonate with the reader, stimulate their curiosity and encourage them to take the next step with you sooner rather than later.
To learn more, simply fill in the form on the right >>>