10 Winning Habits: download your copy today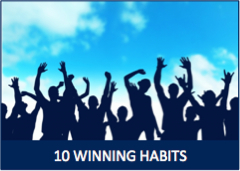 What sets today's top-performing b2b sales and marketing organisations apart? What are the best practices that are enabling them to generate 3 times more pipeline value* than the laggards in their peer group - and be nearly 6 times more effective* at converting those leads into revenues?
Our latest executive briefing draws on the latest industry research and peer-group analysis to reveal 10 winning habits that are enabling these benchmark organisations to systematically attract, engage, qualify, persuade and convert more of the right sort of prospects.
None of these initiatives require huge budgets - they simply depend on a clear focus, the right culture and the determination to succeed. Which means that every B2B sales and marketing organisation could put them into practice starting today, if they wanted to.
Why wait? Simply complete the form on the right >
*Source: Aberdeen Group research