ESTABLISHING THE VALUE GAP
Whenever your customer sees little meaningful difference between their current situation and their future potential, they will be inclined to stick with the status quo.
And whenever they see little meaningful contrast between the various offerings being proposed to them, they will be inclined to buy the lowest-cost solution.
If you are determined to compete on value and not on price, and if you are equally determined to avoid losing potentially winnable opportunities to a decision to "do nothing", you need to establish the strongest possible value gap between your approach and all the other options available to them.
To achieve this, you need to recognise that your competitors are not just the other similar vendors that are proposing apparently similar solutions - your true competition includes all the other credible options your customer might be considering.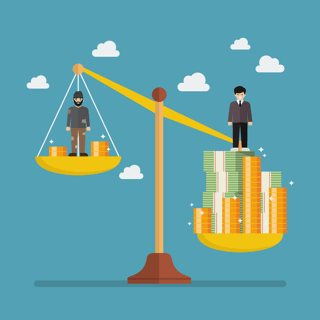 Contrast creates value and drives change: contrast is the driving force that establishes and amplifies the value gap between your prospective customer's situation and their future potential, and between all their other options and your unique value position. But if your prospective customer's value gap is low, and if you fail to take steps to amplify their value gap, you should not be surprised if you end up losing their business to either "no decision" or to a lower-cost competitor.
CONTRASTING THEIR THREATS AND OPPORTUNITIES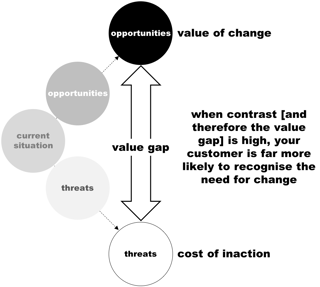 Until and unless you understand the full impact of your customer's business issues, you can't expect them to appreciate the full value of your solution. Your path to value selling starts by persuading your prospective customer of the costs, risks and consequences of sticking with the status quo, and by leading them towards - and not with - your solution.
You need to contrast their current situation with the threats and opportunities facing their business. You need to establish the greatest possible contrast between the negative business outcomes (the cost of inaction) they can expect if they ignore these threats and the positive business outcomes (the value of change) that they can expect from achieving their potential future opportunities.
And you need to ensure that you successfully challenge their natural bias towards sticking with the status quo - convincing them that sticking to their current path in a fast-changing world will inevitably expose them to increasing cost and risk.
This identification and amplification of risk is critical to their decision to move way from the status quo. Research by the Nobel Prize-winning behavioural economist Daniel Kahneman proved that decision-makers are 2-3 times more likely to accept the need for change when confronted by the threat of pain than they are when offered the opportunity for gain. The implications are obvious: you need to convince them of the need for change before you persuade them of the unique merits of your solution.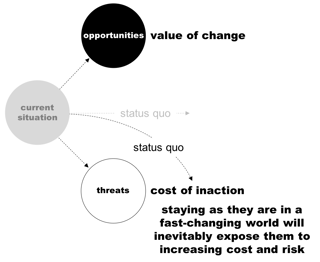 CONTRASTING THEIR ALTERNATIVE OPTIONS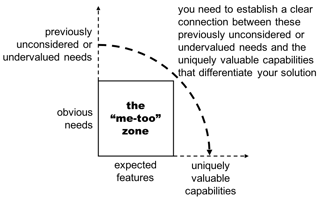 It is likely that most of your competitors will be responding to your prospective customer's obvious needs by offering "solutions" that will typically offer broadly similar features. They will probably all be claiming to be "better" without offering any tangible evidence.
Rather than following your competitors down the "we're better" route, you first need to show how and why you are different - by introducing previously unconsidered or undervalued needs that you can connect with your uniquely valuable capabilities.
And finally, you need to differentiate yourself by using a different and more effective sales approach to those being employed by your competitors.
In summary:
You need to solve a different (and more valuable) problem
You need to offer a different (and more valuable) solution
And you need to sell in a different (and more valuable) way
And those three directives, from our perspective, perfectly encapsulate the essence of value selling.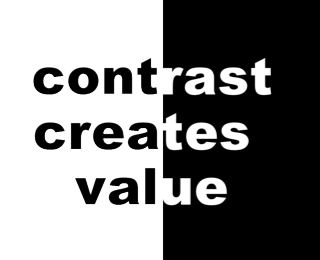 Whether you're seriously considering implementing a value selling strategy for the first time in your sales organisation, or if you've already embarked on a value-selling journey but are determined to accelerate your progress, you owe it to yourself to invest a few minutes finding our whether we might be able to help. Why not book a call today?
EXPERTS IN APPLYING VALUE-BASED SELLING TO COMPLEX B2B SALES
Our value selling system® has the potential to empower every member of your sales organisation - from your most recent recruit to your most experienced veteran - to make the connection between the critical business issues of their customers and the strategic business value of your solution...
TO LEARN MORE ABOUT OUR DISTINCTIVELY DIFFERENT APPROACH TO VALUE-BASED SELLING, CONTACT US TODAY