SELLING IN THE BREAKTHROUGH ZONE
Have you ever wondered why so many apparently promising B2B sales opportunities end with the prospect deciding to either stick with the status quo or choose the cheapest from a set of apparently similar options? Or even if they do have a preference, the customer is often only willing to pay a very small premium for what they see as no more than a "slightly better" solution?
This is essentially a problem of differentiation - or the lack of it. When every vendor appears to addressing apparently similar needs with apparently similar solutions, it's no wonder that prospective customers behave in a confused or risk-averse way.
Adopting a more professional sales approach can help a little - it can increase your win rates and sometimes it can help you earn relatively modest additional margins.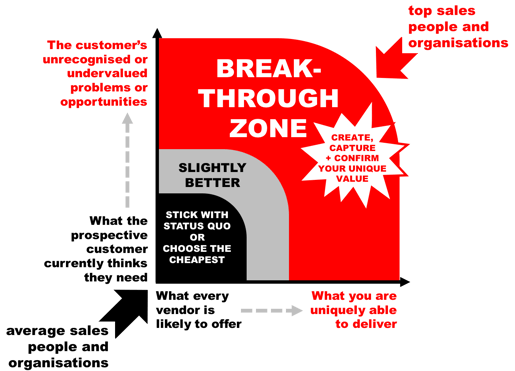 But if that's not enough for you - if you expect your sales organisation to do much better than that - you've got to equip your sales people to SELL IN THE BREAKTHROUGH ZONE. This involves going beyond what your prospective customer currently thinks they need and systematically uncovering an additional set of unrecognised or undervalued problems or opportunities.
And it requires that your sales people go beyond what every other vendor is likely to be saying or doing, by closely and inseparably connecting these previously unacknowledged-but-critical problems or opportunities with one or a handful of critical capabilities that you know you are uniquely well-positioned to deliver.
And that essentially is what our value selling system® is designed to enable your sales people to do: giving them the confidence to SELL IN THE BREAKTHROUGH ZONE by equipping and enabling them to TARGET the most valuable opportunities, POSITION your solution as being distinctively different from all other options, and by enabling your sales people to progressively ADVANCE their prospect's buying decision process.
You can find out more by viewing this video, by following any of the above links, or by contacting us for a discussion about your specific needs.
SELLING IN THE BREAKTHROUGH ZONE
Our VALUE SELLING SYSTEM® has the power to enable every member of your sales organisation - from your most experienced veteran to your most recent new recruit - to SELL IN THE BREAKTHROUGH ZONE by equipping them to progressively create, capture and confirm your unique value for every existing and prospective customer...
TO LEARN MORE ABOUT OUR DISTINCTIVELY DIFFERENT APPROACH, CONTACT US TODAY