Targeting the Right Opportunities
In today's uncertain environment, B2B buyers tend to be risk-averse and inclined to stick with the status quo until and unless there is a compelling reason to change.
Therefore your key to targeting the right opportunities lies in finding the "sweet spot" that defines a business issue that is both strategically relevant and tactically urgent to your customer, and for which you can convince your prospect that you can deliver rapid time-to-value and achieve the customer's expected outcomes with high confidence and low risk.
This requires that you identify and target:
The high-impact issues that, once recognised, will cause your customer to recognise the need for change

Your "Ideal Customers" - organisations that are likely to be suffering from these issues

Your key target roles - the people in these organisations who are likely to drive the change agenda

The action triggers - internal and external events that cause them to realise that urgent action is now an imperative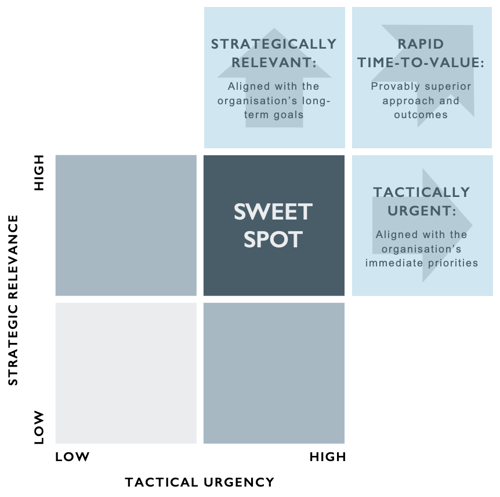 Four Key Elements of Targeting
If you like what you've heard so far about Outcome-Centric Selling®, and you want to explore whether it could turn out to be a perfect fit for what you're seeking to accomplish with your company's sales organisation, simply fill in the form on the left.
First, click on a date that suits you, then make sure that you've selected your local time zone before you choose the time that suits you best and please be aware that we use a 24:hour time format.
We'll be using Zoom to host our call.
I look forward to our conversation!
Bob Apollo
Founder and Chief Outcomes Officer
Inflexion-Point Strategy Partners
Applying an outcome-centric approach to complex B2B Sales
Our Outcome-Centric Selling® framework enables you to align your marketing, business development, sales and customer success functions around the common goal of convincing customers that you - above any other option they may be considering - are the partner that will ensure they achieve better future outcomes.
To learn more about our distinctively different approach, book a call today