TAKE OUR 12-POINT VALUE SELLING SELF-ASSESSMENT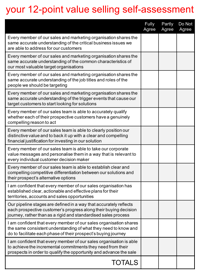 If you're like most of the B2B CEOs and sales leaders we talk to, you're probably already asking yourself:
"How can we do a better job in 2018 of targeting, identifying and engaging the right people in the right organisations, differentiating ourselves from all their other options, and persuading the prospect to commit to our solution?"
You've probably already concluded that at least part of the answer will have to come from enabling your sales people to do a better job of creating, capturing and confirming your unique solution value.
But where should you focus your attention first? This simple self-assessment highlights 12 areas that we've found to be critical to the success of value selling initiatives.
Why not REQUEST YOUR COPY TODAY?