LATEST GUIDE: SELLING IN THE BREAKTHROUGH ZONE®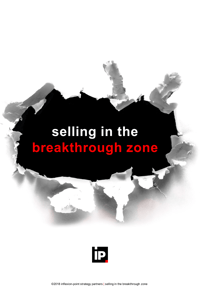 Our latest guide offers the essential introduction into Selling in the Breakthrough Zone®.
Find out how you can equip and enable every member of your sales organisation - from your most experienced veteran to your latest new recruit - to stand out from the crowd and sell in a distinctively different way from all of your "me-too" competitors.
The benefits include shorter sales cycles, higher average deal values, improved revenue predictability and increased win rates. If you are seeking to achieve these objectives in your own sales organisation, why not REQUEST YOUR COPY TODAY?