INTRODUCING THE VALUE SELLING SYSTEM®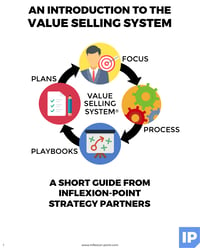 This short guide provides an essential introduction to Inflexion-Point's Value Selling System®.
Find out how to equip and enable every member of your sales organisation - from your most experienced veteran to your latest new recruit - to consistently create and capture mutually meaningful value in every customer interaction.
Our Value Selling System® has been proven to systematically shorten average sales cycles, increase average deal sizes and improve average win rates.
If you are striving to achieve any of these things in your own organisation, why not DOWNLOAD YOUR COPY TODAY?