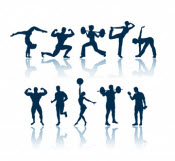 Gyms and Sales Training Companies both seem to benefit from New Year's Resolutions. But just as signing up for gym membership won't do you any good unless you keep up an exercise routine, taking your team through sales training won't improve their performance unless you consistently reinforce the principles they have been taught.
The evidence is compelling. Research proves that - without a systematic programme of reinforcement - over 90% of the information imparted in sales training will have fallen into disuse within 30 days of the course. All that expensive investment in training - and your salespeople's time - will simply have been wasted.
Why You Need a Fitness Programme for Sales
But it doesn't have to be that way. When sales training is conducted as part of an ongoing programme of sales performance improvement that embraces best practice, winning behaviours, and a scalable and dynamic sales process, the benefits can be profound.
Just like active gym members, organisations that embrace a structured "sales fitness programme" are able to consistently outperform their peers through more effective opportunity qualification, shorter sales cycles, higher win rates, fewer "no decisions" and much improved forecast accuracy.
Identifying Winning Behaviours
Sales training still has an important contribution to make - but only when it forms part of a well-integrated programme of sales performance improvement. I recommend you prepare by clearly identifying the winning behaviours that you are trying to inculcate into your sales force.
Reviewing your recent sales wins and losses is a great place to start. What can they tell you about the common characteristics of your most valuable existing and prospective customers, the stakeholders that influence buying decisions, and the winning behaviours of your successful sales people?
Where's the Evidence?
Look at your conversion rates, stage by stage through the buying process. How long does it take winning deals to pass from stage to stage? Where are the common bottlenecks where apparently good opportunities get stuck or fall out of the system? Which sales people appear to need help, and where?
What does this tell you about effective opportunity qualification? How does your sales process relate to your prospects' buying process? How can you reliably tell where they are in their consideration, and when they have passed through a significant milestone? In short, where's the evidence?
Identify Areas for Improvement
Once you understand this, you're in a much better position to identify your real training needs. You'll be able to identify the most appropriate training methodology, to set clear goals for the exercise, and to put it into the context of a well-defined sales process that fits your specific market environment.
Get the processes in place before you undertake the training. You'll be able to target the training where it can have the greatest impact on your sales performance. But perhaps most important, you'll be able to surround your sales training initiative with a well-designed programme of continuous reinforcement.
Creating Your Own Sales Fitness Programme
The key elements of a sales fitness programme include systematic win-loss analysis, a clearly defined sales process that reflects the buyer's journey and incorporates well-proven winning behaviours, and a CRM implementation that reinforces the principles you have taught your sales people.
You'll also probably want to develop ideal customer profiles to help in your market targeting and sales qualification processes - and to develop situational sales tools that serve to advance your prospects buying decision process in a thoughtful, well-targeted way.
If you do, your investments in sales training won't be like all those well-intentioned but ineffective New Year gym memberships - they will be part of a concerted, productive and sustainable programme of sales performance improvement.
p.s.: if you haven't already, you might like to download our latest white paper on 5 Ways to Accelerate Revenue Growth in 2011...